Select the right Climeleon Wave for your air-conditioning or
heat pump outside unit.
The Climeleon Wave has been developed together with heat pump manufacturer Fujitsu General. It can be used with other makes if the unit complies with the conditions for certain types and dimensions.
Fill in the data below and find out quickly which Climeleon Wave type is suitable for your air-conditioning or heat pump outside unit.
Climeleon unit covers are not suitable for units with the fans on the top.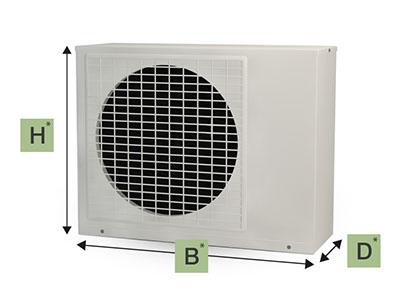 Result
Unfortunately, there is not a Climeleon Wave suitable for your unit.
is the suitable Climeleon unit cover.
Selection based on the dimensions and air flow of the outdoor unit, with roof plinths of 80 mm (optional), without vibration dampers.
You still have mm of free space for possible vibration dampers.
You are welcome to contact us if you would like a detailed study.
Want to know how many decibels you can dampen using this Climeleon Wave?
The illustrations used on this website are indicative.